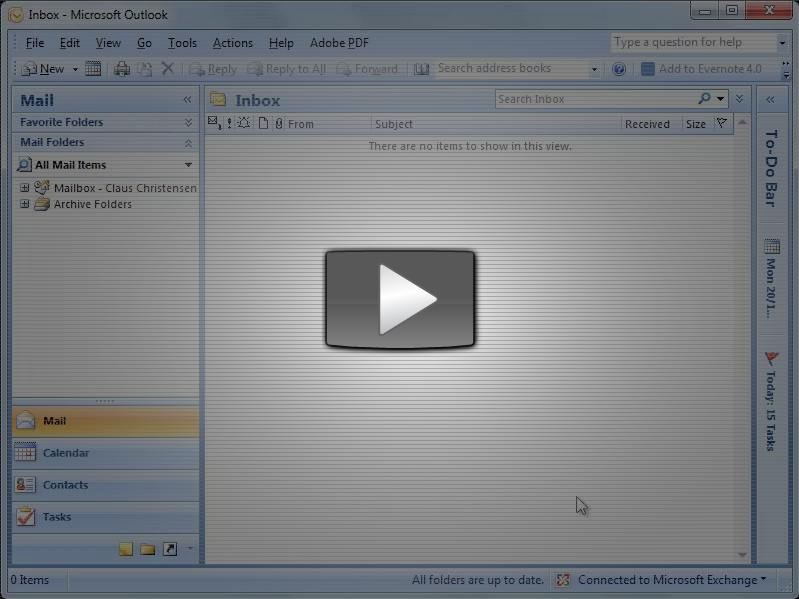 Watch ChangeSender in action in a short 2 minute video demo:
What it does
ChangeSender adds one important piece of functionality to Microsoft Outlook when used with Exchange Server: It allows you to choose the sender address your emails are sent from on a mail-by-mail basis.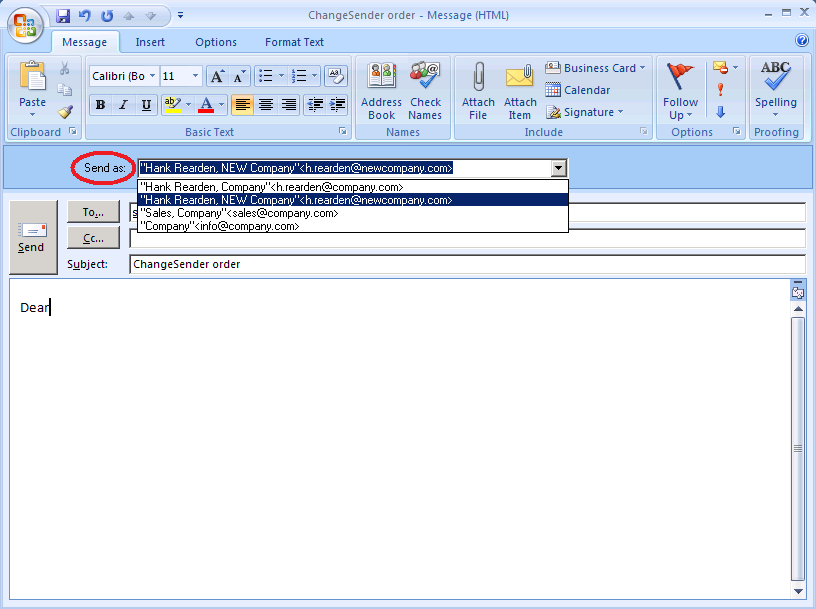 Without ChangeSender, Exchange always sends out emails on your default email address fixed in the ActiveDirectory even when answering emails received on one of your additional email addresses.
Also, Exchange does not allow sharing the same email address (i.e. department-wide or company-wide email addresses) between users. ChangeSender solves both problems by adding a configurable "send as" selection box to your Outlook email form.
ChangeSender Features
Easy selection of sender addresses for new emails via "send as" selection box in Outlook.



Automatically selects the right sender address when replying to emails. ChangeSender uses the address of the original email as sender address for replies.


Email signatures change automatically according to sender address.


You can specify individual sent-items folders for the different sender addresses.


Speed-select your sender address by pressing CTRL-1, CTRL-2, CTRL-3, etc for 1st, 2nd, 3rd, etc. address.


Multiple users can send from the same sender address (i.e. sales@company.com or support@company.com) without having to use a fixed name string ("Sales Group, Jeff" [sales@company.com] and "Sales Group, John" [sales@company.com] vs. just "Sales" [sales@company.com])


Sender appearance fully configurable as "Any name" <any@address.com> for each individual email address. Does not show up as "sent on behalf of...".


Very simple installation and administration. No need to juggle additional email accounts or groups.


Administrator can restrict or allow user choices for the sender address and prevent users from sending as other users.


Works with Exchange 2016, Exchange 2013, 2010, 2007, 2003, 2000 and with Outlook 2016, 2013, 2010 and 2007 versions.
Downloads
Client component / Outlook add-in:
Individual user Outlook add-in

Download

Install this on each user's system. Install it logged in as the user, not as Administrator.

For-all-users Outlook add-in

Download)

Use this version if you want to install "for all users" of a machine, i.e. for Terminal Server or Citrix. Install this version logged in as Administrator.

BTW: In terminal server / citrix installations you can disable the add-in for all users by default and only enable for specific users: FAQ - How to disable ChangeSender by default?.
Server component:
Exchange 2016, 2013, 2010, 2007 version

Download

Install this on the Exchange Server (this version for Exchange 2007, 2010 or 2013)

Exchange 2003, 2000 version

Download

Install this on the Exchange Server (this version for Exchange 2000 or 2003)
More ChangeSender information